Artist Oliver Bliss has been working on a fascinating and timely project producing complex, intricate embroidered tapestries which interrogate ideas of masculinity and social media gaze. The launch of the #softlads poetry anthology is on Saturday 29th January, and will feature a number of University of Worcester's Creative Writing students.
The project was based around providing free creative writing workshops with Holly Winter-Hughes of The Word Association CIC, to generate writing exploring gender, identity and self-worth through the experience of viewing the tapestry art series which Bliss has titled #SoftLads.
For the past two years, Bliss has been creating the series of tapestries focusing on portraits of tattooed males to explore male identity. Part of the continuing project is creating dialogue through the public experience of the work to create a poem or piece of writing in response to the themes explored. Contributor's pieces will be curated into a new anthology, which will be out in 2022, followed by a launch and evening of readings.
"I enjoy subverting binary narratives to explore gender, sexuality and identity in a queer context. I wanted this series of portraits to reflect something different about masculinity within each one. Each of the portraits have been based on profiles on Instagram as a means of capturing a selection of men who have face and or body tattoos. I'm interested in creating a series which reflect a rage of men from this smaller subculture."

Oliver Bliss on the Soft Lads Project:

"University of Worcester Creative Writing students attended the workshops to bring their experience of writing in response to artwork from their course. Ekphrasis poems (from the Greek 'description') are vivid narratives inspired by a work of art where the poet uses text to amplify and expand the original objects meaning, and these type of poems are ones that have been practiced by the students through their poetry modules."
Lecturer Ruth Stacey was excited for her students to be part of the project, not only because her own research considers the relationship between text and image, but also to provide the students with the enriching experience of working with the actual artist, not just a flat image. "Oliver's artwork is a gift for creative writers because of the complexity of his collaged images and the arresting, direct gazes of the men at the centre of the portraits. The works provoke reaction and generate different narratives around each specific detail. The resulting poems and prose fragments are rich with vivid imagery and story. Being able to ask questions through the different stages of the workshops, and provide their own thoughts to become part of the project allowed an organic process with dynamic results."
Third year student Amber Horne said, "I believe that this series by Bliss gently interrogates the complexity of masculinity and its conceptions within society. During the workshops, we are asked to not only question our own perception of these heavily tattooed men but to question the complexity of our differing opinions. We explore fear, sexuality, gender, and even gentleness, through these pieces of work. Intricately made and compassionately composed, these tapestries are nothing short of heart-stopping."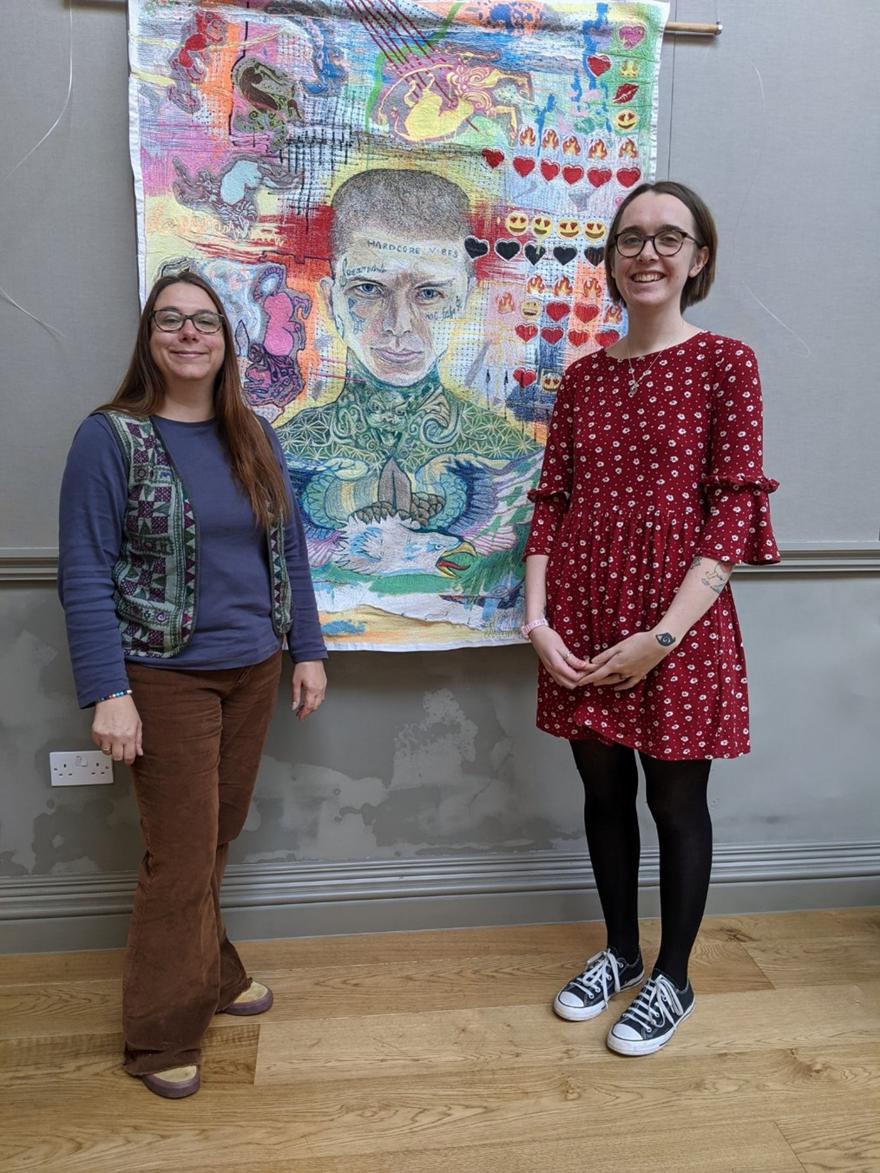 Reflecting on the participation of University of Worcester students Oliver Bliss said, "It's been a real privilege to work with the students at the University. Their enthusiasm, honesty and imagination has been really exciting to be a part of. The work that they have produced from the tapestries is exceptional and will make a rich anthology.
They have individually provided a unique perspective. Some of the work raises questions and other evokes strong emotions. It's great that they have wanted to take part and share their voice. I am excited that some have come forward to perform for Shout! Festival and the Anthology launch next year.
It's a collaborative partnership which we are both gaining rewards from. I hope that they have gain greater confidence and that the process opens new opportunities for them in future."

Listen to BBC Hereford and Worcester to hear Oliver Bliss talking about the launch of #softlads exhibition and poetry reading on Saturday, 29th January.
(from 23:07)
Kate Justice – 25/01/2022 – BBC Sounds
https://www.bbc.co.uk/sounds/play/p0bgbkd3